Please be advised that mainland Scotland is now on temporary Lockdown. Everyone must stay at home except for essential purposes. Travel to The Coig's five routes should only be undertaken when it is permitted and safe to do so. Please be sure follow the Scottish government's guidelines to help us keep our communities safe.
Read on for advice on travelling in Scotland during the Covid-19 epidemic.
---
Download The Coig's FREE App
Our completely free app will help you plan ahead for your trip and explore all five touring routes whilst you are here. The Coig app helps you find the most interesting sights and places. The detailed maps and powerful map filters let you easily see what's near your current location, allowing you to explore with confidence. Our walking, cycling and driving tours have been carefully curated by local experts who know the area best.
---
Driving in Scotland
If you are planning a road trip in Scotland but you've never driven in the UK before, or if you think it'd be a good idea for a quick refresh, please take a moment to watch this video from VisitScotland and have a look at their website which has a list of FAQ's and lots of useful links.
---
Cycling in Scotland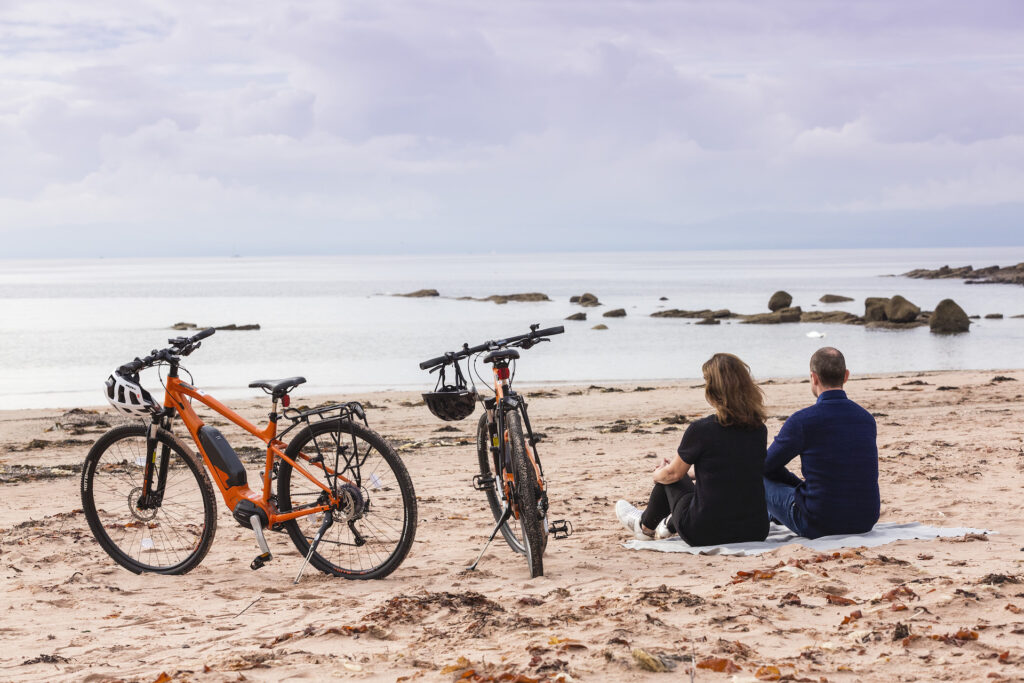 Cycling is a super way to #getoutside and explore The Coig's five routes, particularly if you are visiting the islands of Arran, Bute or Cumbrae. Safety is paramount therefore following the Highway Code is a good place to start.
Visit the Sustrans website to discover the National Cycle Network in Scotland. We also have some great cycle routes on our interactive map. Click on the 'Routes' button then select 'Cycling'.
---
Coronavirus and travelling in Scotland
We want all of our visitors to enjoy their time in our beautiful region and to support our communities and businesses by shopping locally as safely as possible.
The First Minister has announced the new tier levels of Covid-19 restrictions. Details of these levels and the implications of each can be found at https://www.gov.scot/coronavirus-covid-19/. Across The Coig's five routes, there are a number of Local Authority regions, North Ayrshire, South Ayrshire, East Ayrshire and Argyll and Bute. Ensure the region that you are entering isn't a tier 3 region or above.
Download the contact tracing Test and Protect app from NHS Scotland to help protect yourself and those around you. For more information please visit protect.scot.
#KnowBeforeYouGo
Please plan ahead carefully and check opening arrangements with businesses directly. Please also check the region within The Coig's five routes you are planning on entering is operating on an acceptable tier for you to do so.
Check with CalMac ahead of any plans to travel by ferry to any of our islands. Ferry tickets need to be booked well in advance.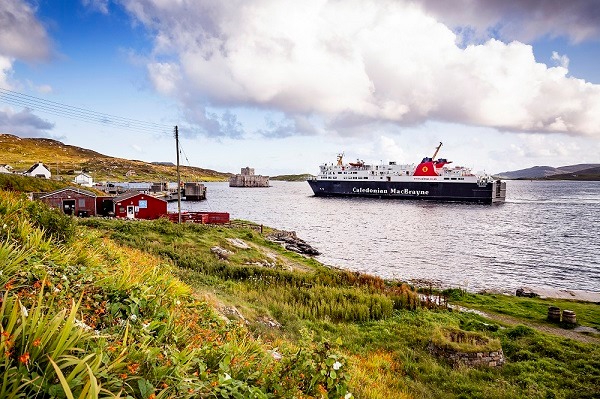 Remember:
Maintain physical distancing at all times, indoors and outdoors
If the number of Covid-19 cases begin to rise again, lockdown restrictions may need to be reintroduced, either locally to nationally.
Please prepare to be adaptable to changes in your travel plans. Have some thoughts about a back-up or plan B.
Please self-declare that you are fit to travel and are not showing any symptoms of Covid-19 before you leave home. Please do not travel if you have any symptoms at all.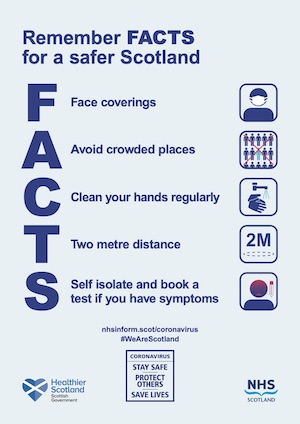 Stop the spread
By carrying a face mask, hand sanitiser, sanitising wipes, tissues and contactless payment we can help reduce the risk of spreading the virus.
Please practise good hygiene at all times, in all places and respect any restrictions made by our local businesses and attractions to keep you safe.

#BeKind
Please be kind to fellow day trippers, staycationers, shop staff and key workers. We are all trying to adjust to a new way of life.
---
Keep Updated
Please remember that official advice in Scotland may differ from that of England, Wales and Northern Ireland.
For the latest tourism updates, please see the VisitScotland website.
---
Scottish Outdoor Access Code
Scotland differs to England and Wales in that you can go on most land to enjoy the outdoors. Know the Scottish Outdoor Access Code before you go so you can get on with enjoying yourself once you're there!
---
Bin Your Litter
We encourage all visitors to The Coig's 5 routes to keep Scotland beautiful by simply putting any litter in a bin or take it home with you.
Zero Waste Scotland have some top tips on how to prepare for a day trip by ensuring that you don't leave any litter behind.

---