Knock Old Castle, Largs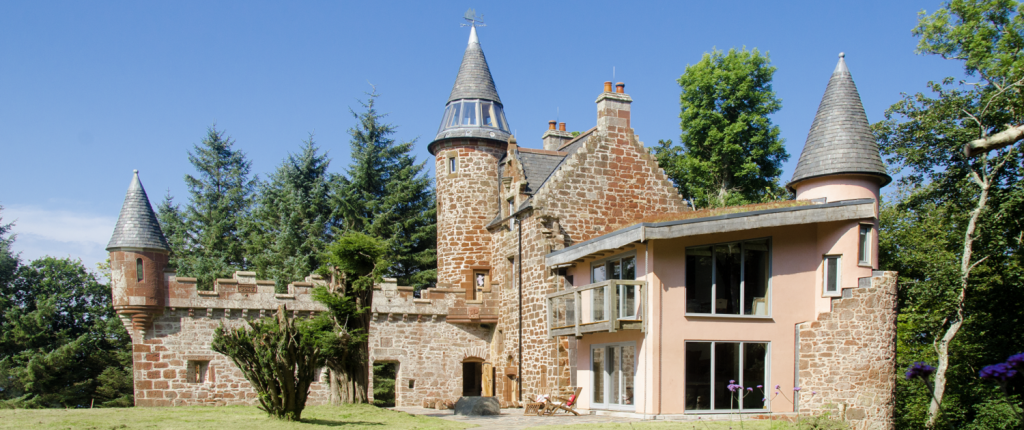 Knock Old Castle, Largs, Ayrshire, Scotland KA30 8SE
---
Knock Old Castle
This 14th-century castle is the perfect retreat for a luxurious gathering with family, where you can relax with your feet up around the wood burner.
Knock Old Castle dates back to the 14th-century and has been fantastically restored by the current owner into a truly unique, fairytale castle.
From the quirky doors and interior, where no straight lines will be found, to the sauna in the tower, and the painted ceiling in the keep, to the stunning views over the sea from the glass domed lookout, and not forgetting the sheep grazing on the wild flower roof. Old Knock Castle will be sure to exceed every expectation.
The castle is located on the Ayrshire coast, only a short walk from the shore and close to the town of Largs with shops, restaurants and promenade.
This luxury self-catering accommodation is ideally situated to visit the islands of Cumbrae, Arran and the Isle of Bute on CalMac ferries.
Easily accessible, Glasgow and Edinburgh are easily reached for a day trip with rail links available from Largs.
Live like a king or a queen in a Scottish Castle on your holiday, please get in touch directly.
---
Picture Gallery